A Year-End Review
Posted on December 31 2016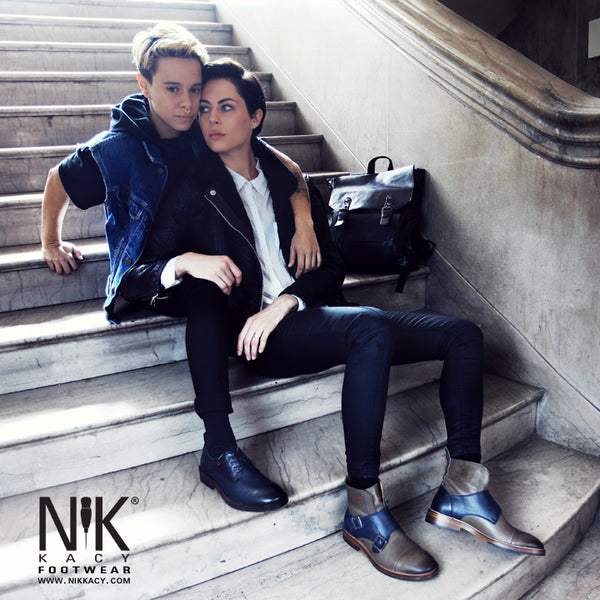 To round out our year, we wanted to create a year-end review photo journal! Its been a crazy, wonderful, challenging, important, life-changing year and we wouldn't be here without you! So please join us as we go through this year's highlights.
January

Our first production of shoes arrived from the ports of Portugal to Los Angeles!

A little guerilla style shot with our shoes at the Broad Museum with artist Goshka Macuga's installation...shhh don't tell anyone ;)
February
StartOut Panel: Launching a Fashion Brand. My first panel discussion as a fashion brand and entrepreneur. Fellow panelists included Eliza Ladensohn of Sloane & Tate, and Leon Wu of Sharpe Suiting, moderated by Jennifer A. Post of Raines Feldman, LLP. I learned so much from my fellow entrepreneur peers. [sorry no photo].
March
Our first fashion show as a brand and what an honor to have these amazing models volunteer to walk for us... including designer and pal Thuy Nguyen of Thuy Custom Clothier! Celebrate Your Body was a show about celebrating all the beauty that exists in all types of bodies. We couldn't have done our first show at a better show that exuded everything our brand mission is about!
While in the Bay Area for Celebrate Your Body, I was fortunate enough to build my friendship with Thuy. She let me stay at her place while we prepped for the show
and I got to watch her in action sewing at her machine. One of the treasured memories of my journey this year was my new found friendship. Thuy is family now and I look
forward to seeing her company grow!
April

Fellow queer designer, Angie Chuang collaborated with NiK Kacy for her show for the Taiwanese Fashion Designers of America runway. How cool was that! Way to represent! A fellow Queens native, Angie and I hit it off right away and I was glad to meet her in person finally in NY later in the Summer!

I had the great honor of speaking on a panel presented by Young Professionals Council at the LA LGBT Center, with some incredibly talented and successful entrepreneurs. Fellow panelists were Jonathan Eppers – CEO / Founder of RadPad, Will Hackner – Owner / Operator of Varsity Gay League, and Jeff Sheng – Photographer / Writer / Artist with moderator Tracy Gilchrist - Deputy Editor of Pride.com. As the only non-cisgendered male on the panel, I felt a great opportunity to represent the trans/queer/lesbian community that we, too, can be successful, inventive, business people. Thank you Jared Alexander Ross of the LGBT Center for putting this together! It was so inspiring!
May
May brought on an incredible opportunity to share our queer designers' work with Toronto! AllJackedUp's Jack Jackson sponsored us to fly to Toronto and show off our collection for their first queer fashion show - SUPERBUTCH! What an honor it was and I was so humbled to be there. Canadians know how to make us feel welcomed that's for sure! Here we all gathered with some fellow designers (Kirrin Finch and Thuy Custom Clothier) along with some awesome models and Natasha of queer publication Effort-Lez.com! We love our queer family and can't wait to see what's next!

As a committee member for the annual concert event, An Evening with Women, it was my pleasure to co-sponsor a table with Sharpe Suiting (shown here on the red carpet with myself, Leon Wu and Buck Angel). In addition, I also donated a pair of our most popular Monk Boot to the silent auction. Proceeds from this awesome event benefits all the services for women and girls need at the LA LGBT Center. It is my commitment to be able to donate at least a pair of shoes to this event and many others every year.
June

June marked another milestone... we received our first full page ad in a major publication, West Hollywood Lifestyle Magazine in conjuction with the 25th Anniversary of iconic gay nightclub The Abbey in West Hollywood. We were honored to be given the opportunity and grateful for the generous donation of a big fan. Get the latest edition at http://westhollywoodlifestyle.com/ and subscribe!

2016 was the year of fashion shows for me. In June, I had my third fashion show at Rainbow Fashion Week, presented by Jag and Co. It was not only an honor to participate in this week-long queer but I was able to share my collection with the city where I grew up... the Big Apple. My mom walked my runway in her first fashion show as a model. It was pretty surreal and so incredible. Here is a photo with most of my models (including my mom!) All the models were so talented and I can't wait to see where their modeling careers take them in 2017!
July

In July, I had the pleasure of speaking live on the radio and interweb with Catherine Gray, Founder of 360 Karma, an organization focused on the empowerment of women. We discussed my journey both personally and professionally from my transition to my creating my shoe brand. The 360 Karma project also included a web series and a book which I was also a part of. To learn more, go to http://360karma.com/ and join us!

After months of fulfilling all the orders from both my Kickstarter campaign and online store, I was finally able to deliver on my promise of donating 4 pairs of new shoes from the Fortune collection to the LA LGBT Center. That was a commitment I had made when I first started my Kickstarter campaign. I want to be able to utilize what I am creating and sharing it with those who deserve it and may not be able to afford it. The LA LGBT Center has a Youth Center that helps homeless and disadvantaged LGBTQ youth. I ended up donating a total of 8 pairs of shoes, 4 used prototypes and 4 new final production pairs to The Center. The new pairs were reserved as rewards for their young clients who have achieved an accolade or milestone so that it gave them something to look forward to for their achievements. In addition to that I also donated another pair to a the Lesbian & Gay Big Apple Corps in New York for their holiday auction. Being able to give back to my community is such an important aspect of life for me. I look forward to being able to donate more in 2017! 
August

Throughout the year I had been working on developing a second collection which I had hoped to reveal at DapperQ's New York Fashion Week show. However, after months of hardwork trying to produce the prototypes, I was notified two weeks prior to the NY show from my agent that the shoes would not be done. Luckily, I was able to create my own prototypes using my first collection as a base and outsourcing some high heels as a foundation and handpainting and refurbishing 8 pairs of shoes to create rough prototypes of the concept shoes for the show. What I gained the most of this experience was that I am never at the mercy of anyone else. Your dream is always in your hands and only you can make it happen, even when no one else will help you. See below for the results of my custom hand-painted shoes ;)

As a certified LGBT Business Enterprise, I was invited to attend a Zappos sponsored workshop at the Zappos headquarter with a group of other minority small businesses. It was fun (as you can see) and we learned a lot, as well as, made some great connections! Thanks Zappos and Heather Cox!
September

On September 8th, I co-presented with Sharpe Suiting on the runway of the beautiful Brooklyn Museum. Together, Leon and I had collaborated our designs to create a cohesive look from head to toe for 8 models on the runway. Brought about by DapperQ and the Brooklyn Museum, this fashion show, titled iD was one of the most gorgeous fashion shows I had the honor of being a part of. With all the unfortunate mishaps with my original prototypes not arriving I was so worried that I would fail everyone. Here are 8 styles (4 shown here and 4 in the next column) that I hand painted and repurposed from shoes I was able to source from a few different stores as well as from my own first collection.

Here are 4 more styles I created. Leon Wu of Sharpe Suiting created the suits for each of the models and we inspired each other with our respective designs. It was a wonderful experience to collaborate with someone I have much respect for and have known for a very long time. Thanks Leon for the opportunity and thank you DapperQ for putting on such an amazing show! 
October

After the craziness of NY Fashion Week, I immediately flew back to Los Angeles, to prep for Queer Fashion Week in Oakland. It was to be the last fashion show of the year for me and I was looking forward to going out with a bang! Check out the highlight video my good friend Vonyse Reeder edited. Footage shot by my old friend Olivia Parriott. I'm so incredibly blessed to have such amazing friends who support me and always have my back. Thank you Vonyse and Olivia! Out of 5 fashion shows total in 2016, this was the first time I finally was able to cut a highlight video!

To help bring the designs of Queer Fashion Week
to LA, I organized a Queer Pop-Up event in Culver City at Charles Jacobsen, a gorgeous antique furniture store. It was a chance to bring to LA small queer businesses like Kirrin Finch, DapperD,
Unbound Estilo, Raphael Creations, Panorama Press, Sharpe Suiting and Ppippilong Kids.  Plus there were tasty treats by Blue Window and libations by Leslie Barclay!
November

In November, I had the privilege of being part of the first Live Love Thrive Women's Conference, by Karma360.org, an organization built on the concept of empowering women. Having been part of the webseries, radio show, and book of this project, I got to be onstage with fellow panelists who were all part of the book and webseries. What an honor it was to be surrounded by so many incredible women and allies who were all there to help lift one another. We need more of this in our world! Let's live by example!

There have been many marches this year against the many acts of hate and discrimination, crimes, violence, and injustice. As a company built on the
idea that we are all created equal and that we should all walk our way, it was a priority to be able to participate in the many peaceful protests that happened locally. From mourning the victims of Pulse in Orlando, to the presidential election results, to Black Lives Matter, to Transgender Remembrance Day, to Standing Rock - each of us need to take time to do our part to ensure that those who are disenfranchised and treated unjustly have a place and a voice to speak up. We cannot stand by silently.
We need to show up together and protect one another. 
December

To close out 2016, my buddies at Dapper Boi and I teamed up to all our customers some great holiday deals. One of the biggest goals of mine in 2016 was to foster a collaborative environment between all the brands and small businesses in our community. Competition was not in my vocabulary and all I worked towards was to bring as many designers and brands together as possible to help one another. As our community faces obstacles, we need to help one another succeed because when one of us does, we can lift the others. So be sure to help your local queer businesses. 
Oh and if you're interested in our holiday special...
Go to www.nikkacy.com to get $15 off all shoe orders! Limit one per order.
Go to www.DapperBoi.com to get $10 off orders of $60 or more! Limit one per customer. Offer expires on 12/31/16

Meet The Georgios. A gender-equal, pointy-toe, dual zipper, boot for all identities. At the end of October, I traveled to Leon, Mexico in search of a new sustainable, eco-conscious, small, craftsman workshop to create prototypes of my next collection. After what felt like months of disappointments, I finally had made contact with someone who had just the perfect shoemaker to connect me with. Since then we've been working on developing the first design and I'm proud to announce that we finished the first prototype and its beautiful! I'll be opening up the website to collect pre-orders starting early January 2017!! Woot hoot! Please spread the word and help us continue to exist as a queer, small business! In an industry where we face constant discrimination and disregard, we need our community to help us sustain. I'll be releasing new designs as we finish developing them but will only take pre-orders one style at a time to help cut down on expenditures. 

I'm super excited to conclude this year-end review with this final photo at the 2017 Miss Quest Media Advocacy Pageant. I was invited to judge the pageant with Kelly Hu, James Gilliam, Sabel Samone-Loreca, AJ King, Alexandra Grey, Viktor Belmont, Brandon Kneefel! I was so excited to be part of this event. The entire pageant was so beautiful and each contestant was amazing. Judging a pageant like this was much more challenging than I realized. To me, they were all winners!
If you've gotten thru all this year's highlights, congratulations and thank you for taking the time to share my journey.
Before I end this blog, I have one more thing to share with you. I tried acting for the first time... (well I tried at least). My good friend, queer artist MaDame Düx, wrote a series of songs that unfold to tell a series of stories. She wanted to take a stand against North Carolina's anti-LGBT bathroom bill, HB2, and invited me to be part of the journey. In her new music video for "Say Goodbye" from her album The 490th Incarnation. I got to play "The John" a trans individual trying to use the bathroom in a world where there are those who live with hate and those who live with love. It was very challenging to play a role which I experience daily when trying to use the bathroom. 
The John from Thornbird Productions on Vimeo.
Watch the video and be sure to buy the album at madamedx.bandcamp.com! Proceeds go to the It Gets Better Project!
Thank you again for being a part of my life however near or far. I am thrilled to be able to do what I do and I am excited to get my second collection together so that more people can walk their way in my shoes. I also will be developing the gender-equal holster wallet this year so stay tuned for that as well! Thank you all for your continued support and all the encouragement as I face each obstacle that comes my way. I'm so grateful for all of you.
Happy New Year!!!
Love, 
NiK