NiK Kacy Runway Debut at Celebrate Your Body 2016
Posted on March 16 2016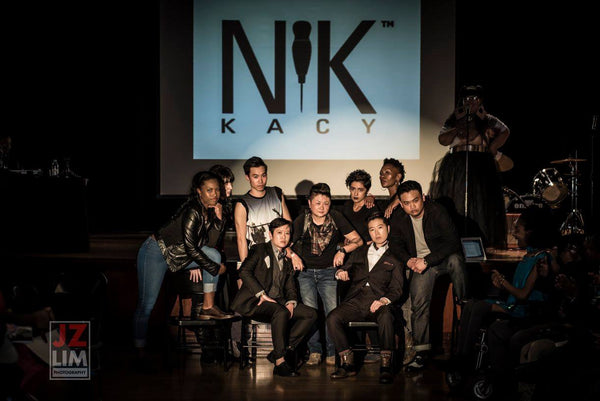 Happy March everyone! I am on cloud 9 right now after a week in San Francisco, CA for my first fashion runway show sponsored by Kearny Street Workshop, called Celebrate Your Body!  Kearny Street Workshop is the oldest Asian Pacific American multidisciplinary arts organization in the country who's mission is to present, produce, and promote art that empowers Asian Pacific American artists and communities by offering classes and workshops, salons, and student presentations, as well as professionally curated and produced exhibitions, performances, readings, and screenings.  I was honored to have been accepted as a participant and share my work on the runway along with 7 other incredible designers!
A very special shout out to my talented and beautiful friend, Sirsa Shekim for generously sharing her incredible music and vocals for my runway show. You can check her out at www.Facebook.com/SirsaShekimMusic and you can find her album on iTunes at https://itunes.apple.com/us/album/life-in-color/id510542073
Celebrate Your Body was hosted by Virgie Tovar of Buzzfeed and Lose Hate Not Weight, and this event shared the designs of NiK Kacy Footwear, along with Thuy Custom Clothier, Kalakari, Jojistarr, A Red Feather, De Watasenia, Consters Inc, and Fashion Penpals... all of whom by the way were just the most amazing group of positive and inspiring people I had the privilege of working with. I'm so grateful and am excited to see what new works they share with the world in the days to come!
Here are some photos from my portion of the show (embedded from my FB album with photo credits: going out to Jose Lim and Kaleb Welch, thank you!!!). To see more photos of the other designers, check out KSW's Facebook Page and don't forget to support by donating to their organization. 
Extra Special Thanks to everyone at KSW who put on the event and all my incredible models for making my shoes look so good! You were all fierce! 
NiK Kacy Models: Alyssa Topete, Sasha Curdinnle-Weinhg, Thúy H. Nguyen, Aaron Hui, Irene Tu, Joelle Branhan, Ross Valencia, Iyanna Mayo